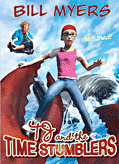 In this 5th book in the TJ and the Time Stumblers series, TJ is the new kid at a junior high school and she arrives along with some strange happenings, that are caused by her invisible time traveling friends from the 23rd century, Tuna and Herby, who are constantly hounded by their nemesis, Bruce Bruiseabone. In the meantime, TJ's nemesis is the beautiful 13 year old teen superstar, Hesper Breakahart, who due to the mishaps of the bumbling Tuna and Herby, switches bodies with TJ.
TJ finds out how difficult it is to live Hesper's life while helping Tuna and Herby "borrow" some plutonium so they can power their time pod and return to their own time. She learns the power of forgiveness as she walks in someone else's shoes - and body.
This is a fun, cute book for children ages 8 to 12. I got the book for free to review from Tyndale and I am passing it on to my 10 and 12 year old children to read next. I am sure that they will enjoy it!